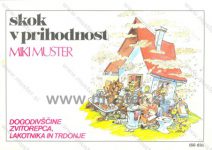 Written by Andraž Gombač
As early as 1971, the legendary Miki Muster made young readers ecologically aware with the adventure Jump into the Future (Skok v prihodnost), where he sent his comic-book character. Trickster, Hardie and Hungerly travel half a century into the future, into our era, the year 2020, in which people wear masks, even if not because of the virus.
It begins with a walk in the woods, an attempt to pick mushrooms, and the horror of realizing that many people would rather take trash into nature than take it to nurtured landfills. And neither force, inspection, nor other services work as they should, they only further confuse and squeeze, so Miki Muster stabs them with a satirical ax and adds in the corner, "Any resemblance to the real situation is NOT entirely coincidental."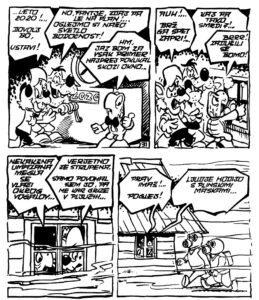 In the episode Jump into the Future (1971), Trickster, Hardie and Hungerly want to know what awaits our planet, so they travel with their time machine until 2020. They see horrifying scenes: people walk around in masks, not in defense against the coronavirus, but because of the extraordinary polluted toxic air. They buy fresh food at the pumps, explains a tall girl, on this day their guide to Ljubljana. He assigns them gas masks and takes them to the Three Bridges. Today, when people from several parts of the world report that in an emergency, after the cessation of industry and traffic, they see stars in the sky and fish in the water, it is all the more interesting to watch comic book drawings in which the Ljubljanica is "just a dirty layer of rotten waste". People live deep underground, drink canned water, chemical food production flourishes …
Muster also indulges in a grip that even the masters of postmodernism would not be ashamed of: when a girl introduces new acquaintances to her parents, her father is very happy to know them, because as a boy he reads their adventures, these are the heroes of his youth.
In this horrible world, the girl remarks, "It's easier for us who were born below, and parents always complain about the sun and the greenery."